MNOTW: Big Zuu gets his flowers at the 2022 BAFTAs, Burna Boy becomes first Nigerian artist to perform a headline show at Madison Aquare Gardens & more
This weeks music news covers happenings in the world of music from the 2022 BAFTAs, Rinse FM's radio residents reboot for Spring/ Summer, a Toddla T produced tribute to the victims of Grenfell with One Vibe Charity & more...
Music News of the Week is your one-stop round up on both major and minor happenings in the world of music.
SAFFRON MUSIC LAUNCHES ARTIST DEVELOPMENT PROGRAMME TO SUPPORT BLACK WOMEN, NON-BINARY AND GENDER NON-CONFORMING PEOPLE IN MUSIC TECH
Out now via a new compilation from Saffron Records. The collection features five original tracks from the programme's participants and can also be listened to by walking around Bristol through a geo-unlocking technology which streams through the MSCTY website. Listeners are invited to immerse themselves in the locations in which the tracks have been created for. Sounds comprise skittering snares and distorted melodic electronics from Medis, deep sub-bass and distant watery siren calls from Ratiba Ayadi, yearning soulful genre-blending from Tallulah Blue, spoken word and experimental electronics from Marla Kether and pounding high-end techno from The Yard Woman. Saffron's 2021-22 artist development programme speaks to their core mission of addressing the gender imbalance in music tech, with particular support for Black folks and those of mixed Black heritage. The six-month project aimed to provide each participant with the tools, opportunities and support to develop their careers.
RINSE FM ANNOUNCE NEW RADIO RESIDENTS FOR SPRING/ SUMMER FROM ACROSS THE UK AND FRANCE
Rinse FM has announced a colossal station reboot adding over 60+ residents for May alongside a brand new flagship Friday night show hosted by Emerald – "The Dance Show" every Friday 18-00-21:00. Including "The Ultimate Afrobeats Show" with Neptizzle, "The Rap Show" with Pretty Hood, the XL signed emerging London duo Two Shell, ​Punjabi UKG revivalist Yung Singh, West London producer and DJ p-rallel, South African Amapiano hitmaker Virgo Deep and "The Drum & Bass Show" featuring big names such as Harriet Jaxxon, DJ Hype, Inja, Randall, Mozey & more; this latest curation of the Rinse FM roster speaks to the brands historical penchant for selective and expert curation. Alongside its key pillars such as Jossy Mitsu, IZCO, KETTAMA, Wunmi Bello, Bambe, Ouri, TEMET, Zaltan (Antidote), Tcheba and many more, Rinse FM continues to champion and support the most exciting breaking and underground sounds from the UK and beyond.
Rinse FM founder Geeneus added: "Over the past few months, our teams have been working hard behind the scenes reshaping and building what is to be the next generation of Rinse. Today, we can finally share our new radio residents for Spring/Summer, welcoming an amazing 90 new artists to the family across the U.K. and France. 27 years deep and I'm proud to say we still have the same passion and drive as always to showcase new music and talent to the world. Sharing is a very important part of who we are and we hope you love the new additions to our family".
ONE VIBE CHARITY RELEASES SINGLE 'WEST SIDE STORY' IN TRIBUTE TO THE VICTIMS OF GRENFELL
The track is a tribute to the victims of Grenfell and all that have been affected by the tragedy which occurred June 14, 2017. Released through One Vibe charity and produced by the West London platinum producer, DJ and songwriter Toddla T. The track features artists Sophie De Masi, Double C, S-Town, MsBambii, 23 Trill and G2 Slime and it samples Michael Oliver's 'Heaven and Hell Is On Earth' (which has also been used by Kanye West). The visuals also feature cameos from some of West London's well-known residents like Mabel, Digga D and AJ Tracey and includes support from the likes of Annie Mac, Griff, Cat Burns, Ashley Walters and Idris Elba to name a few. A couple of those involved with the project said: "Being a young local artist, it's been great being involved in this project, I attended the local secondary school under the Grenfell tower and I have lost friends, so paying tribute to them and the community has been amazing – I am honoured," added G2.
BAFTAS: BIG ZUU TAKES HOME AWARD FOR BEST FEATURE & ENTERTAINMENT PERFORMANCE
Big Zuu collected his two Baftas for Best Feature and Entertainment Performance for 'Big Zuu's Big Eats'. In his state of shock, he made an incredibly heartwarming and powerful speech accepting the award–"This is mad, this is actually not normal," as he went on to point out the importance of representation, "Mans come from humble beginnings. Representation is so important. Growing up, there weren't many chefs or people that looked like me on telly. And now there's young people watching us doing our ting thinking you know what? If these wastemen can win a Bafta, surely we can!"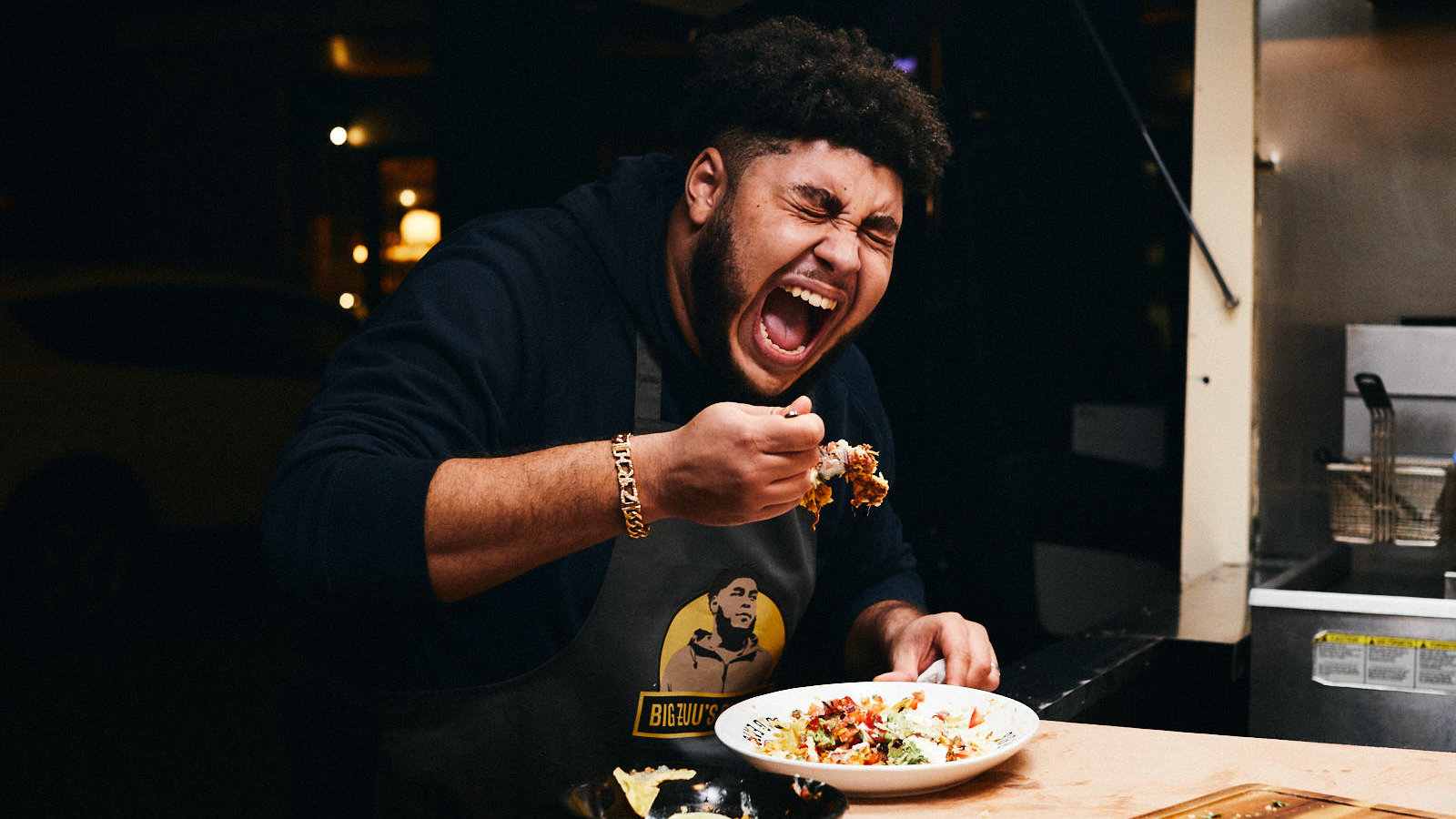 BURNA BOY PERFORMS AT MADISON SQUARE GARDENS FOR OVER 20 000 FANS
Amongst a hyped-up crowd, flying bras, novel settings and political anthems the world-renowned artist has become the first Nigerian to headline the famous New York venue. The two-hour set was met with screaming fans that felt reminiscent of the "Beatlemania" of the 60s. Evidenced by scenes of fans flinging their own bras onto the stage—at one point, he hung several around his waistline like a utility belt. "Burna is so cool, yo!" shouted a fan as Burna sailed down his lengthy runway, fenced by sharp strobes, to "Gbona" from his seminal title, African Giant.
GALA FESTIVAL ANNOUNCES FINAL LINEUP TAKING PLACE JUNE 2 – JUN 4, 2022
GALA Festival closes the lineup for its sixth installment across the June Bank Holiday weekend (Thursday 2nd to Saturday 4th). Returning to Peckham Rye Park, GALAwill build on the success of 2021's sell-out event, with a celebration of dance music's rich and varied lineage spanning house, jazz, disco, drum & bass, garage, acid house and afrobeats.
Includes stage performances from–Little Dragon, Palms Trax, Charlie Bones, Hunee, Nubya Garcia, DJ Harvey, Soichi Terada and Sons of Kemet and Charlie Bones who is to programme, stage and broadcast a Do!!You!! Radio live onsite. Award-winning architect Joe Halligan to design stage 4.